5911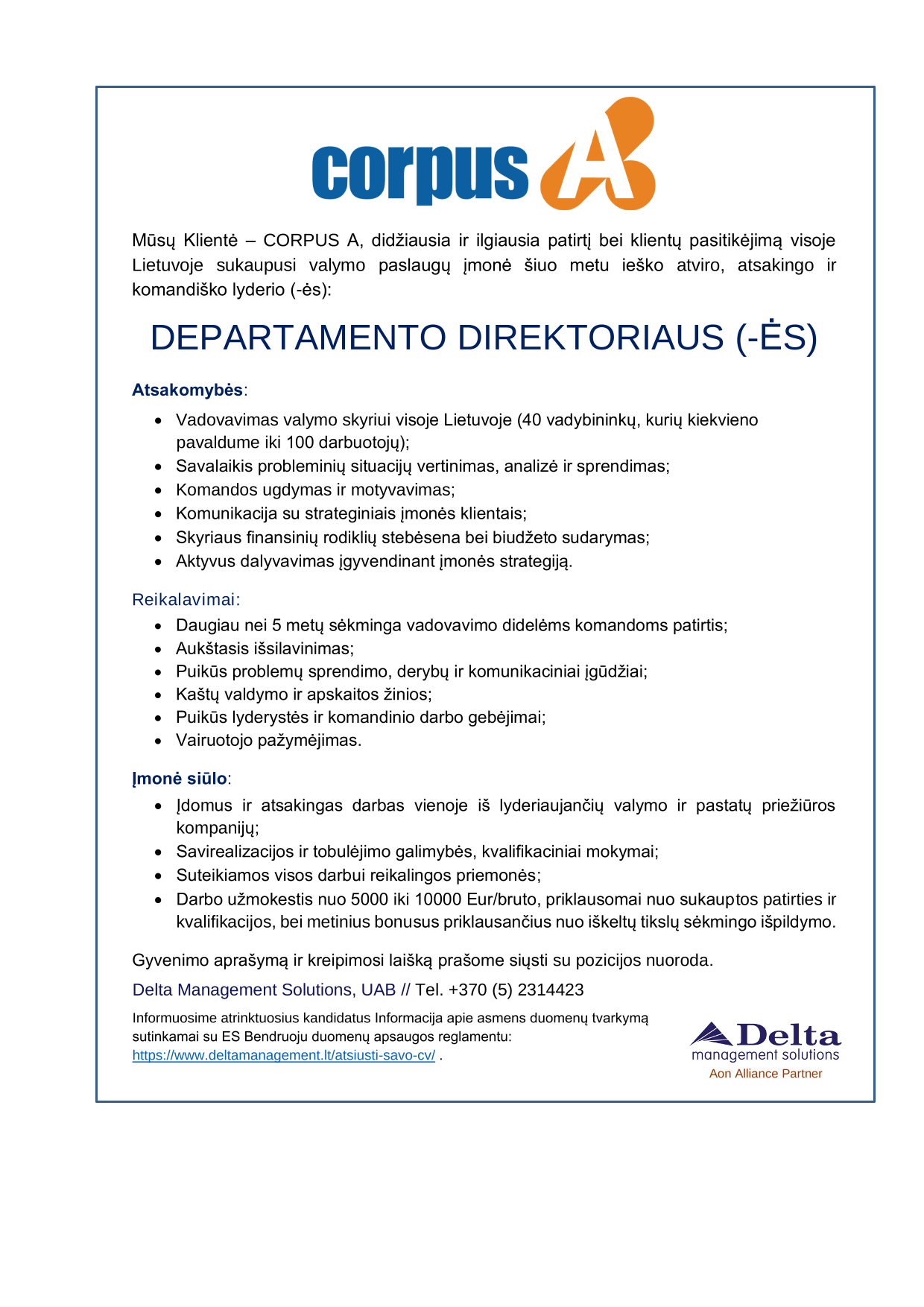 Monthly gross salary
Gross/mo
  € 5000 - 10000
Additional information:

 Numatomi metiniai bonusai, priklausantys nuo iškeltų tikslų sėkmingo įgyvendinimo.
Location
Vilnius, Vilniaus apskritis,

Lithuania



Contact person
Kosultantas Konsultantas
+37065222442
Mūsų Klientė CORPUS A, didžiausia ir ilgiausia patirtį bei klientų pasitikėjimą visoje Lietuvoje sukaupusi valymo paslaugų įmonė šiuo metu ieško atviro, atsakingo ir komandiško lyderio (-ės) - Departamento direktoriaus (-ės).
Delta Management Solutions teikia platų spektrą paslaugų žmogiškųjų išteklių srityje. Esame sukaupę daugiau nei 25 metų patirtį Lietuvos ir tarptautinėje rinkoje, įgiję įmonių bei kandidatų pasitikėjimą. Nuolat siekiame stiprinti savo praktinę patirtį ir įgūdžius, o taip pat profesinius ryšius, kad galėtume kuo profesionaliau patenkinti verslo poreikius ir padėti įgyvendinti tikslus.
Delta Management Solutions provides a wide assortment of HR services and has earned the trust and confidence of its clients and candidates, to a large extent, because of the 25 plus years of experience in the local market and internationally. Were constantly working to improve our practical skills and experience along with our professional contacts in order to satisfy the business needs of our clients in the most professional manner and help them attain their goals.