Skelbimas

Atlygis/Miestas

Apie įmonę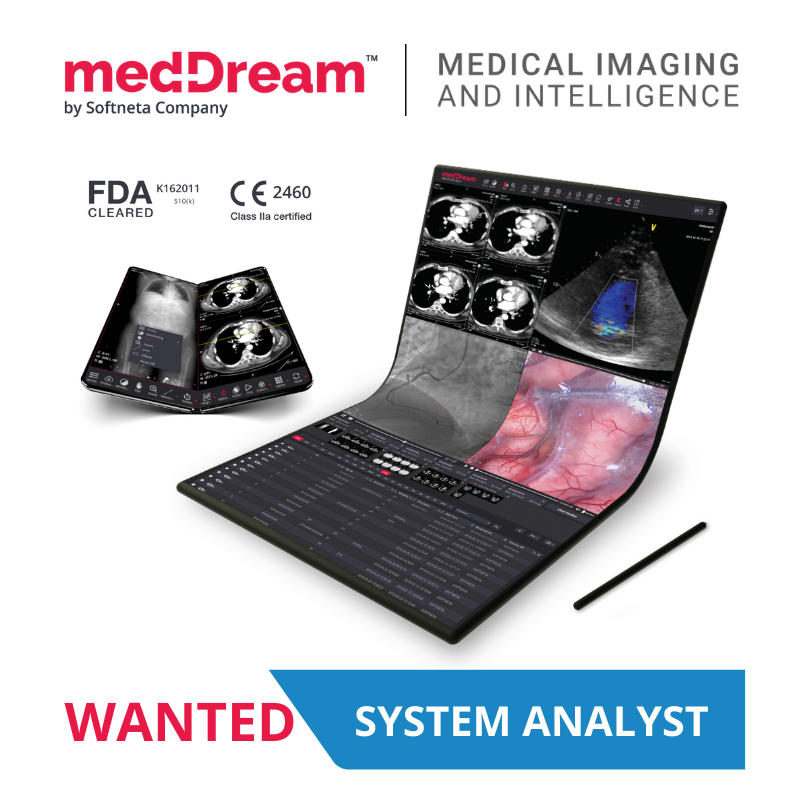 MEDICAL IMAGING IT COMPANY, SOFTNETA IS EXPANDING AND LOOKING FOR:
SYSTEM ANALYST
Job information
• Preparation of EU project documentation in Lithuanian language
• Preparation of technical-analytical documentation for the EU project "Medical Image Streaming Technology –MIST"
• Long-term goal: develop the medical image viewer system MedDream together with the team.
Required qualifications
• Experience in requirements gathering and testing for IT solutions
• Experience in documenting EU projects
• Experience in business process modeling tools (BPMN, Sequence flow diagrams, Activity diagrams, UML diagrams, Process flow diagrams, SWOT analysis)
• Ability to formalize technical documents of IT projects (including but not limited to the provision of analytical schemes and their descriptions)
• Ability to build teams and a spirit of cooperation
• Ability to pick up technical and business concepts quickly
• Excellent written Lithuanian skills
• Excellent spoken and written English skills.
Desired qualifications
• Experience in working with EU LVPA projects
• Experience in working with Eurostars projects
• Experience in working with ISO 9001 processes
• Experience working with MagicDraw or a similar tool
• Experience in UI and UX design & prototyping.
• Experience in IT project management would be a nice addition
• Ability to apply the results of scientific and experimental research in practice
• Software deployment and testing skills

Company offers
• Opportunity to contribute to the development of an innovative world-leading product.
• Excellent working conditions in an organization that executes projects nationally and internationally.
• Work in a friendly and youthful team.
• An opportunity to implement own ideas and to grow with the company.
Submit your CV and join our company which:
• Develops specialized medical imaging software that contributes to improving the quality of healthcare.
• Sells products in over 64 countries worldwide.
• Have installed more than 1120 server installations worldwide.
By applying you agree to our privacy policy: https://www.softneta.com/lt/privatumo-politika/
Monthly salary (bruto): from 2100 – 5000 € *
* the specific salary shall be agreed with each candidate individually, taking into account his experience, competence and qualifications.
We are a small team, but we create the best product in the world. If you are interested, join us!

Information about company products:
https://www.softneta.com/
https://www.facebook.com/Softneta/
https://twitter.com/Softneta
https://www.linkedin.com/company/softneta

Contact person: Raimonda Siaurusevičiūtė, HR
+370 672 42852
Softneta, UAB | "Santakos" slėnis, K. Baršausko g. 59, Kaunas