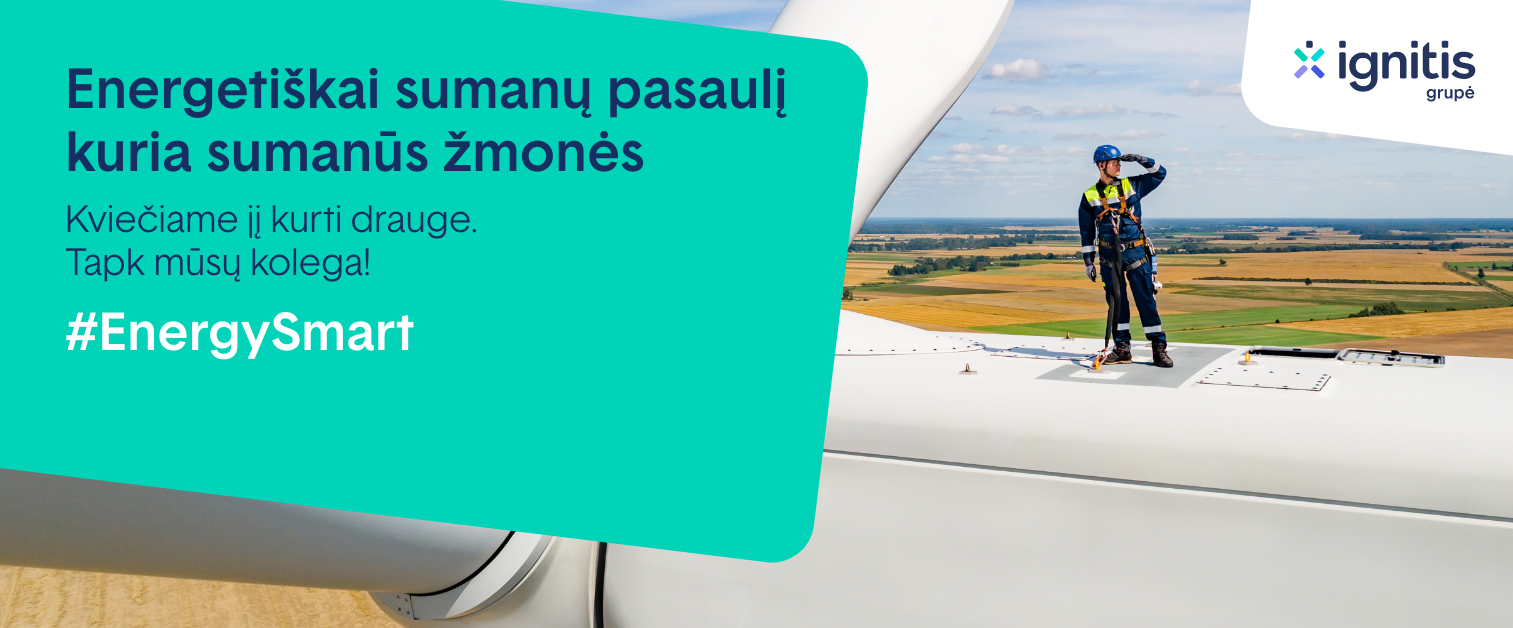 Skelbimas

Atlygis/Miestas

Apie įmonę
Do You want to be part of "Ignitis"?
We are looking for a colleague, who would join the Data and Analysis team and take responsibility for the collection of different types of business (end user) requirements (operational reporting and ad-hoc analysis) and translating these into solution designs, while prioritizing development to maximize insight through analytics solutions.
Solutions will include production, testing and delivery of new operational reports and dashboards in Power BI. In addition the Data Analyst will be expected to support end user requests or different business functions with ad-hoc analysis and insights.
We value openness, partnership is our strength, and responsibility makes us a great team. If all this speaks to you, we would like to invite you to join us.
Your key areas of responsibilities will be:
Promoting awareness and understanding of the value of advanced data analytics and leading business partners to better data-driven decision making;
Working closely with data analytics product owners and business analysts to create a powerful user story including all necessary data analytics product requirements;
Delivering Data Analytics products:

Data wrangling - ingesting data from a variety of data sources and performing required transformations;
Data cleansing - filter and "clean" data by reviewing reports and performance indicators locating and correcting data and/ or code problems;
Data modeling and report creation – creation of efficient data models and designing attractive reports in line with best practices;
Data analysis – identify, analyze, and interpret trends or patterns in complex data sets using contemporary analysis methods;

Maintaining open communication with stakeholders to improve data analytics skills in business and ensure best practices, tools, resources are available.
We expect that You:
Have 1-2 years of relevant work or research experience;

Are proficient of conventional and advanced data analytics tools (MS BI Stack is standard in our organization);
Are able to design conceptual and logical data models from both structured and unstructured data;
Are able present complex information in an easy to understand manner;
Are confident communication with stakeholders of all levels including the ability to advise, train and support clients where necessary;

Have BS / MS in a field related to Data Science (Mathematics, Economics, Computer Science, Information Management or Statistics), or a closely related quantitative field;
Have analytical mind, attention to detail and inclination for problem-solving, passionate about analytics;
Have excellent knowledge of Lithuanian and English (written and oral).
As part of our team You:
Your knowledge and experience will contribute towards developing long-term energy projects of national importance;
You will have an opportunity to take up unique challenges specific to the energy sector together with a team of professionals;
You will have an opportunity to work with the newest technologies;
You will not only be able to observe how innovations come to life, but also initiate changes yourself by contributing your knowledge and experience towards creating an Energy Smart world;
You will receive benefits package (health insurance/pension plan, flexible work time, etc).
About us:
Ignitis Group is one of the largest international utilities and renewable energy group of companies in the Baltic region. The companies of the Group produce, supply and distribute energy as well as operate all services required to make the world energy smart.
One of its companies is Ignitis, a largest electricity and gas supplier in Lithuania with subsidiaries in Latvia, Estonia and Poland. The company solves all energy-related tasks raised by both consumers and businesses. The company offers effective solutions for energy consumption and heating, energy production from renewable sources, develops electric vehicle infrastructure, provides other energy services.
www.ignitis.lt
Daugiau jūsų paiešką atitinkančių rezultatų:
Chief Analyst for Credit Model Ownership

MECHANIKOS INŽINIERIUS (-Ė) (MID)