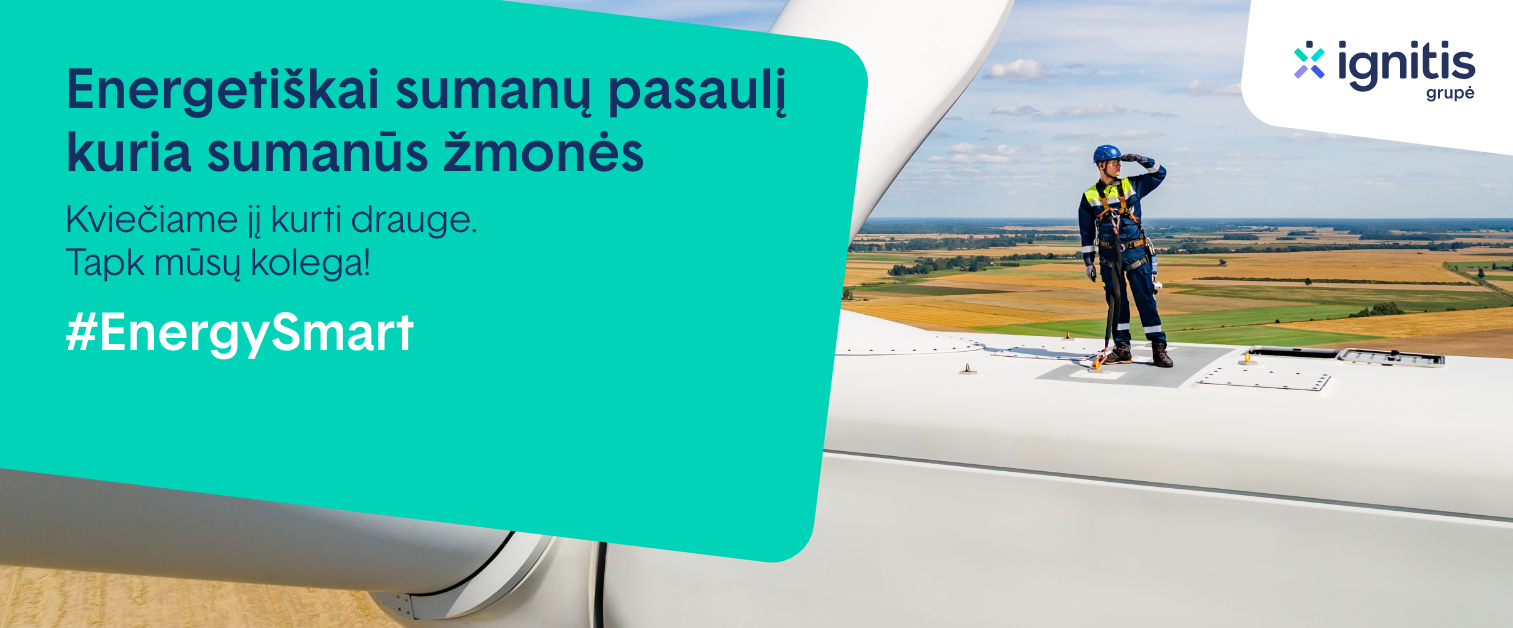 Skelbimas

Atlygis/Miestas

Apie įmonę
Do You want to be part of "Ignitis"?
We are looking for a colleague, who would join the Ignitis digital team and help us take care of over 0.6 million users experience. We are looking forward for a passionate person, who would love to learn from the best. Our UI/UX specialist together have more than 30 years of web design experience which they will gladly share with you.
During your Internship you will learn more about web design, A/B tests, usability tests with focus groups, real customers feedbacks, Google Analytics and HotJar data analysis. You will take part in design creation and follow how these changes impact our customers.
We value openness, partnership is our strength, and responsibility makes us a great team. If all this speaks to you, we would like to invite you to join us. Smart start program starts on February 2-9!
Your key areas of responsibilities will be:
Design business websites, pages, and additional features;
Redesign existing websites;
Follow Lean UX process in your daily tasks;
Work with UI/UX Lead to continually improve design approach and processes;
Communicate effectively with project managers, digital strategists and product owners;
Together with the Customer Experience Team analyze user behavior and suggest design adjustments based on their feedback;
Together with the CRO manager analyze A/B test, HotJar, GA and suggest design adjustments based on results.
We expect that You:
Have basic knowledge and ability to follow most effective design approaches (e.g. Design thinking, Lean UX, Growth Driven Design) in your daily tasks;
Have pixel perfect attention to details;
Are eager to check your design by running A/B test and finding the winner;
Self-motivated, team player, detail oriented.
As part of our team You:
contribute towards creating an Energy Smart world;
experience modern technologies and equipment, learn of various fields;
not only be able to participate in changes, but also initiate them on yourself;
learn from the professionals in your field, participate in the training programmes and grow together.
"Ignitis group" is an equal opportunity employer where all applicants for employment are considered without regard to race, religion, sex, gender identity and/or expression, sexual orientation, age, disability or other attributes unrelated to the performance of work duties.
About us:
Ignitis Group is one of the largest international utilities and renewable energy group of companies in the Baltic region. The companies of the Group produce, supply and distribute energy as well as operate all services required to make the world energy smart.
Ignitis offers smart, added-value energy solutions for B2C and B2B customers – from solar energy and energy consumption efficiency to e-mobility. Ignitis innovates and helps its customers become energy smart because it knows how to make their life easier. Energy smart solutions company also supplies electricity and gas to more than 1.6 million customers in Lithuania and is an independent gas supplier in Finland. Ignitis owns companies in Latvia, Estonia and Poland which provide electricity and gas supply services.
www.ignitis.lt
Daugiau jūsų paiešką atitinkančių rezultatų:
Traukinio mašinistas (-ė)