155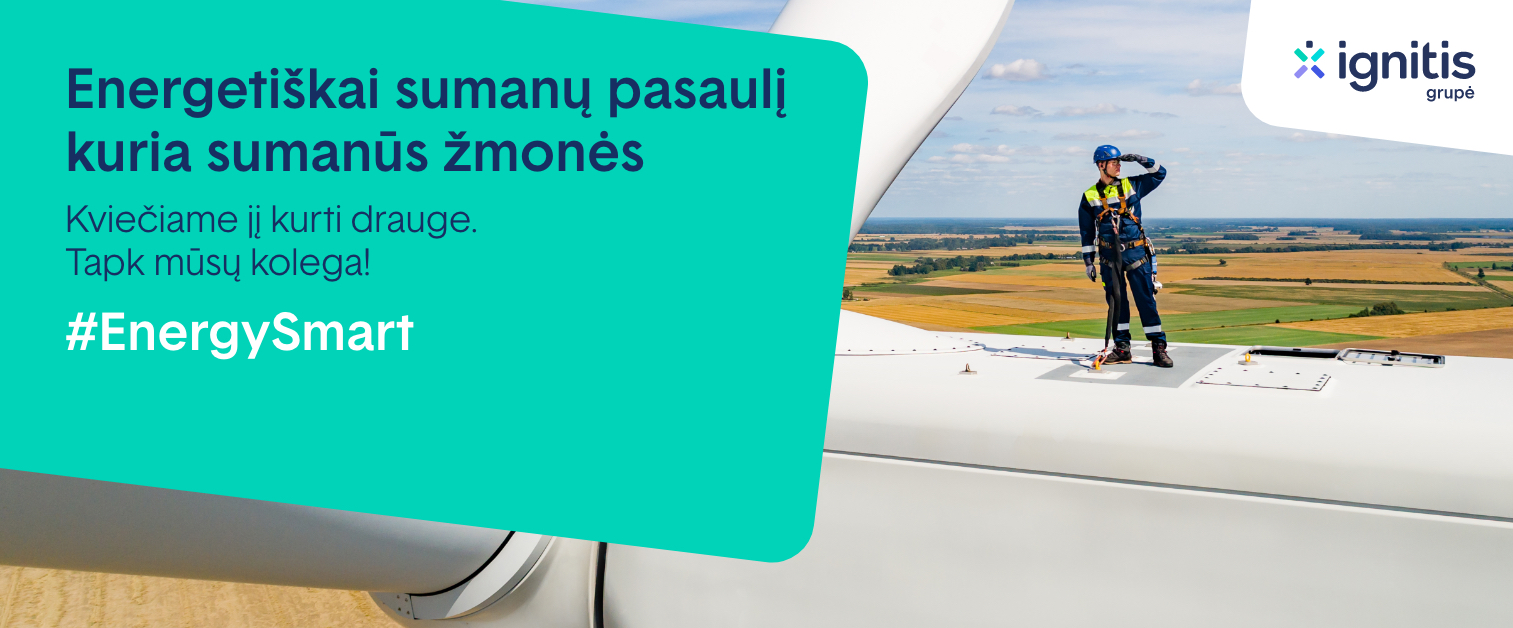 Skelbimas

Atlygis/Miestas

Apie įmonę
Do You want to be part of "Ignitis renewables"?
We are looking for a colleague, who would join our team and take care of our people. We value openness, partnership is our strength, and responsibility makes us a great team. If all this speaks to you, we would like to invite you to join us.
Your key areas of responsibilities will be:
Formulate and implement Renewables people management strategy, policy and organizational culture in alignment with the Group HR function;
Act to support the human factor in the company by devising strategies for performance evaluation, staffing, training, development, workforce planning etc.;
Develop and implement corporate plans for a variety of HR matters in cooperation of the Group function (such as compensation, benefits, health and safety etc.);
Create competitive, client focused, agile and innovative organizational culture;
Recruit and keep the key talents for Renewables, implement talent development system;
Competence development – develop special training programs for the specific business needs;
Develop and implement effective on-boarding system;
Work on wellbeing and loyalty of the team;
Consult leadership of Renewables on HR management issues;
Oversee all Renewables implemented HR initiatives, systems and tactics;
Monitor adherence to internal policies and legal standards;
Deal with grievances and violations invoking disciplinary action when required;
Report to senior management by analyzing data and using HR metrics;
Bridging management and employee relations by addressing demands, grievances or other issues;
Be ready to spend part time in core markets in person (not fully remote position).
We expect that You:
Have proven experience in a senior HR Manager role (5+ years);
If you have Renewables specific experience it would be a big advantage;
Have BSc/BA in human resources, business administration or relevant field; if you have MSc/MA in human resources it would be a plus;
Have full understanding of the way an organization operates to meet its objectives;
Have excellent knowledge of employment legislation and regulations;
Have thorough knowledge of human resource management principles and best practices;
Have a business acumen partnered with attention to the human element;
Have knowledge of data analysis and reporting;
Have excellent organizational and leadership skills;
Have outstanding communication and interpersonal skills;
Are diligent and firm with high ethical standards;
Have IT literacy – MS Office (Excel, PowerPoint, MS Project);
Are proficient in English language.
As part of our team You:
Will have the freedom to make changes and an opportunity to join one of the largest international energy group of companies in the Baltic region ;
Will take up challenges unique to the sector together with a team of professionals;
Will not only observe how innovations come to life, but you will also initiate changes yourself by contributing your knowledge and experience to the projects of national importance in the energy field.
"Ignitis group" is an equal opportunity employer where all applicants for employment are considered without regard to race, religion, sex, gender identity and/or expression, sexual orientation, age, disability or other attributes unrelated to the performance of work duties.
About us:
Ignitis Group is the largest listed company and an energy leader in the Baltic region. Group companies produce, supply and distribute energy as well as provide all services required to make the world energy smart.
Ignitis Renewables is an international green energy company operating in the three Baltic states and Poland. The company is responsible for development of offshore and onshore wind farms, solar energy, biomass and waste-to-energy projects. By developing new projects, the company implements the strategic goal of Ignitis Group to reach 4 GW of installed green generation capacity by 2030.
www.ignitisgrupe.lt
Daugiau jūsų paiešką atitinkančių rezultatų: